Post by Miss.Oreo on Jul 10, 2011 10:55:23 GMT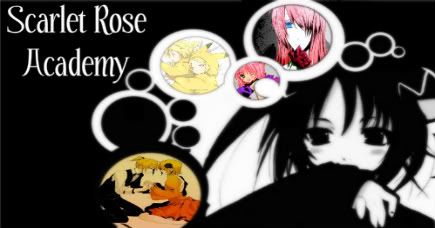 Fourteen years ago the country of Liba decided to start a program called Scarlet Rose "Academy" to defend the country against the threats presented in the most modern World War. In this day and time, 4414 A.D., stories about monsters are thought myths of old by society. That is why the Scarlet Rose Academy was able to get away with kidnapping and enslaving monsters to experiment on and use as soldiers. That isn't the only atrocity that the Scarlet Rose Academy is known for, they also kidnap human children who won't be missed and enroll them into the academy to be turned into genetically modified monster-human hybrids and trained to be soldiers.
However no matter how terrible the Scarlet Rose Academy seems it's for a good cause. A neighboring country has its eyes set on Liba's lands and has already started expanding its empire. It's only a matter of time before Liba is attacked and if Liba loses the war then the citizens would lose their freedoms, and most likely their lives as well. The army that the Scarlet Rose Academy is creating will be able to take on the military of Divinity, but at what cost?
So, how far would you go to serve your country, your species, your home?
|
Home
•
Plot
•
Ads
|
[size=1][center][IMG]http://i682.photobucket.com/albums/vv187/Dorio98/Wallpapers/067595304ff758c43f6f63fcf4ac5bdc1268570537_full-1.jpg[/IMG]

Fourteen years ago the country of Liba decided to start a program called Scarlet Rose "Academy" to defend the country against the threats presented in the most modern World War. In this day and time, 4414 A.D., stories about monsters are thought myths of old by society. That is why the Scarlet Rose Academy was able to get away with kidnapping and enslaving monsters to experiment on and use as soldiers. That isn't the only atrocity that the Scarlet Rose Academy is known for, they also kidnap human children who won't be missed and enroll them into the academy to be turned into genetically modified monster-human hybrids and trained to be soldiers.

However no matter how terrible the Scarlet Rose Academy seems it's for a good cause. A neighboring country has its eyes set on Liba's lands and has already started expanding its empire. It's only a matter of time before Liba is attacked and if Liba loses the war then the citizens would lose their freedoms, and most likely their lives as well. The army that the Scarlet Rose Academy is creating will be able to take on the military of Divinity, but at what cost?

So, how far would you go to serve your country, your species, your home?

[size=4]| [url=http://scarletrose.proboards.com/index.cgi]Home[/url] • [url=http://scarletrose.proboards.com/index.cgi?board=help&action=display&thread=19]Plot[/url] • [url=http://scarletrose.proboards.com/index.cgi?board=plug]Ads [/url]|[/size][/center][/size]
Invisionfree Code
[size=1][align=center][IMG]http://i682.photobucket.com/albums/vv187/Dorio98/Wallpapers/067595304ff758c43f6f63fcf4ac5bdc1268570537_full-1.jpg[/IMG]

Fourteen years ago the country of Liba decided to start a program called Scarlet Rose "Academy" to defend the country against the threats presented in the most modern World War. In this day and time, 4414 A.D., stories about monsters are thought myths of old by society. That is why the Scarlet Rose Academy was able to get away with kidnapping and enslaving monsters to experiment on and use as soldiers. That isn't the only atrocity that the Scarlet Rose Academy is known for, they also kidnap human children who won't be missed and enroll them into the academy to be turned into genetically modified monster-human hybrids and trained to be soldiers.

However no matter how terrible the Scarlet Rose Academy seems it's for a good cause. A neighboring country has its eyes set on Liba's lands and has already started expanding its empire. It's only a matter of time before Liba is attacked and if Liba loses the war then the citizens would lose their freedoms, and most likely their lives as well. The army that the Scarlet Rose Academy is creating will be able to take on the military of Divinity, but at what cost?

So, how far would you go to serve your country, your species, your home?


[size=4]| [url=http://scarletrose.proboards.com/index.cgi]Home[/url] • [url=http://scarletrose.proboards.com/index.cgi?board=help&action=display&thread=19]Plot[/url] • [url=http://scarletrose.proboards.com/index.cgi?board=plug]Ads [/url]|[/size][/align][/size]